Pandemic, isolation and changes from 2020 to 2023 and th have left us many lessons. Of course, it was a challenging time, full of limitations, uncertainty, and new challenges. But also full of valuable opportunities in the personal, work, and business fields. We don't know how much time the pandemic will last, but there is a light in the darkness. It's the certainty that the world has changed because people's behavior has changed, and also, IT companies have changed forever.
The operation, objectives, and challenges of this sector are going through the most significant change in the last twenty years. And most of these changes are related to the data management processes. We have never experienced this high level of data collection before. The pandemic and isolation have forced all companies, especially IT companies, to obtain more users' data. Data that needs to be managed, processed, stored, and protected after being acquired.
Data Is the New Oil
Lately, I read an article entitled Data Is the New Oil of the Digital Economy that talks about how the 21st Century's digital economy data were like oil in the 19th Century. Although oil was discovered in 1859 when Edwin Drake drilled, produced crude oil, and gave birth to the modern petroleum industry. The oil industry was extensively developed until 1870. When John D. Rockefeller and Henry Flagler with the Standard Oil Co foundation. Standard Oil Co. succeeded in dominating the oil products market thanks to its innovation in the oil industry. This company worked hard optimizing the production, logistics, costs, and business trust at that time.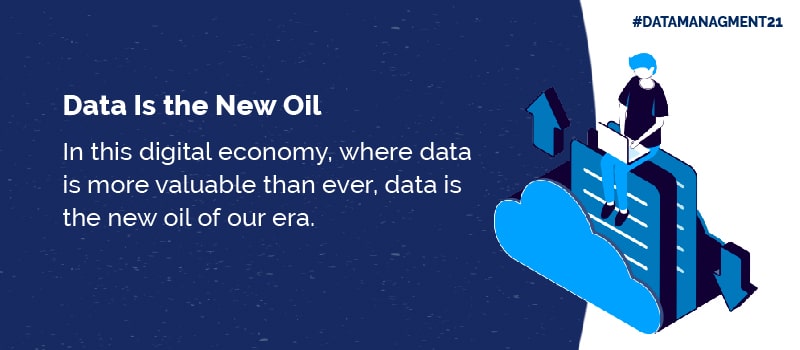 YOU CAN BE INTERESTED IN THESE ARTICLES TOO: 1. Data management: benefits and keypoints 2. Data Integration Benefits You Need to Know
We're undoubtedly in a digital economy where data is more valuable than ever. But, while oil proved to be a limited and harmful asset, data collection can be a true elixir for digital businesses. There will be huge rewards for those who learn how to extract data first—those who first prepare their information systems and start collecting. Here are some interesting facts about the digital data economy in the 21st Century:
Digital transformation is accelerating: New disruptive technologies as Virtual and Augmented Reality technology, Robotics, IoT (Internet of Things) are reshaping the way most businesses are functioning today.
New technologies such as AI, ML, and the cloud are transforming how IT businesses use data management processes.
21st century IT companies have the urgency to learn about processes such as Data Management Process, Data Lifecycle Management (DLM), and Information Lifecycle Management (ILM).
Data collection and analysis will become by 2030 the basis of all future service offerings and business models.
What is a Data Management Process?
If data is the new oil, we can say that a Data Management process includes acquiring, storing, protecting, and processing that oil. Suppose you aim to turn your IT business into the next Standard Oil Company. So you need to follow the right process to ensure the accessibility and reliability of your data from users. Think of using Big Data to improve your business decisions and gain deep insights into customer behavior, trends, and opportunities. Also, to create extraordinary customer experiences.
According to this article from NG DATA, you need your company to use data management processes and platforms to make sense of the great quantity of data you need to gather, analyze, and store. Data management processes make some essential functions like processing and validating simpler and less time-consuming. Make use of a data management platform with the needed data management processes. It can allow your business to take advantage of large quantities of data from all data sources in real-time. Besides, it will enable more effective engagement with customers and increases customer lifetime value (CLV).
It is essential to make use of top data management processes and data management platform because:
We are creating and consuming data at unprecedented rates.
These platforms give organizations a 360-degree view of their customers.
Data management platform allows businesses to gain deep, critical insights into consumer behavior.
These platforms give businesses a competitive edge to maintain in time.
Best Practices for Data Management
An IT business needs to know the questions that need to be answered. So then, acquire the specific data that is necessary to answer those questions. This process will help to get the required insight to make decisions driven by data. To achieve this, IT Businesses need to do the following tasks:
Collect vast amounts of information from various sources.
Utilize best practices while going through the process of storing and managing the data.
Cleaning and mining the data.
Analyze and visualize the data to execute business decisions.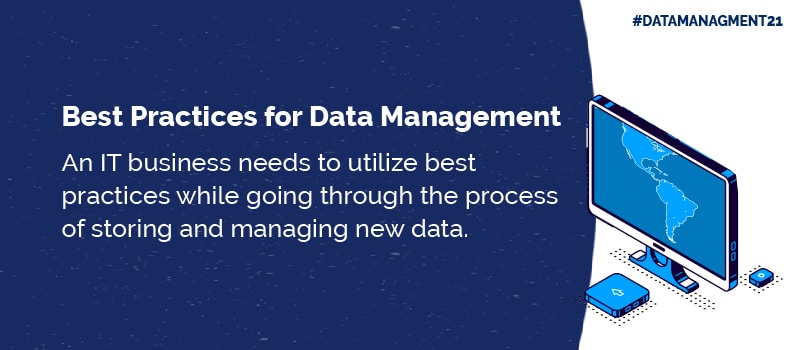 It's important to consider that data management best practices result in better analytics that permits companies to optimize their Big Data. IT companies should try these data management best practices:
Simplify access to new and emerging data.
Debug data to infuse quality into existing business processes.
Shape data using flexible manipulation techniques.
Use data management platforms to gather, sort, and house their information.
Repackage information visualized ways that are useful to marketers.
It is essential to count on a top-performing data management platform to give your employees the most accurate business information. This what they will be capable of managing all data sources in the best way for the whole organization. It is only through data management best practices that organizations can harness the power of their data to make the data useful. Data management best practices will enable your IT business to use data analytics in beneficial ways, such as:
To personalize and add value to your customer experience.
To identify the root causes of business issues in real-time.
To produce better revenues associated with data-driven processes.
To improve customer engagement and loyalty.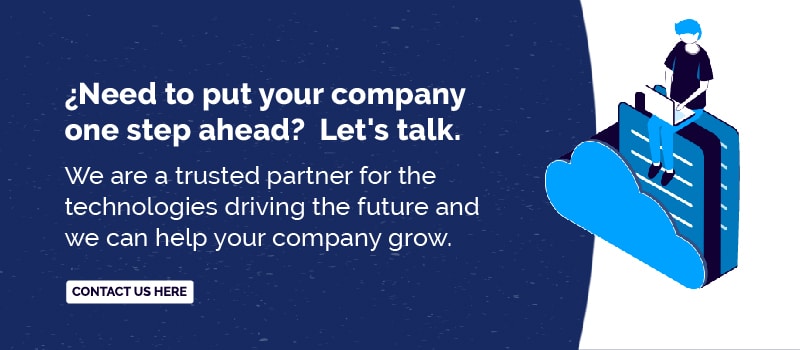 What is Data Lifecycle Management (DLM)?
According to this article from Bmc Blog, Data Lifecycle Management (DLM) involves entering a piece of data into a database. This way, employees can access the new data to make reports and analytics. Otherwise, it will remain in the database and eventually become obsolete. Data may have logic applied to different processes, but it will come at some point to the end of its useful life and be archived or purged. The concept of defining and organizing this process into repeatable steps for enterprise organizations is known as Data Lifecycle Management. And it can be made as an automated process to take data through its useful life.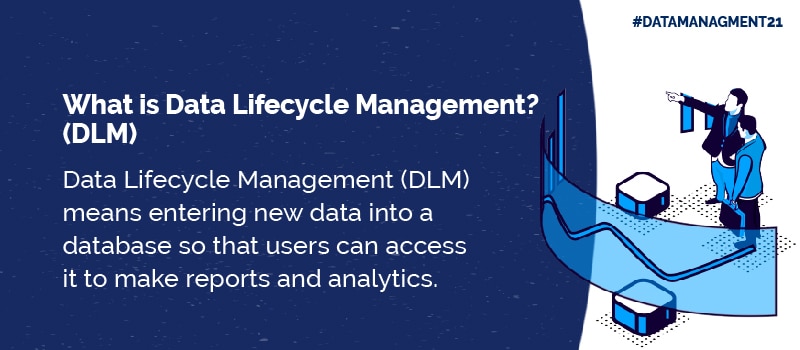 What is the difference between DLM vs. ILM?
Data lifecycle management is the reactant that pushes data from one stage to the next, from creation to deletion. DLM is all about a system designed to answer an essential question in data life: when should this information be deleted? On the other corner, we have another critical term associated with DLM. Information Lifecycle Management (ILM) seeks to answer another big question: Is this information relevant and accurate?
DLM and ILM are two sides of the same coin. You need to implement a robust system for data management processes or DLM to obtain an effective ILM strategy. DLM and ILM should form part of an organization's overall data protection strategy. DLM is concerned with the whole mass of data, while ILM deals with what's in a record. Ensuring that the most recent and useful records are accessible quickly and efficiently is the main target of a good DLM strategy.
ILM has the valuable task of ensuring that every piece of information included in a record is accurate and up-to-date for the record's useful life. A record becomes more and more obsolete as it passes through specified lifecycle stages. And when a document becomes obsolete, speed and accessibility are no longer prioritized for stale data.
Best Practices for Data Lifecycle Management
There are no industry standards for enterprise data lifecycle management. But most experts agree that the different stages of the management cycle look like the ones you can see below:
Data acquisition and capture: These occur at the beginning of the cycle when the organization obtains new information. This data could be in different formats as images or other types of Documents. At this stage, data entry professionals have the critical goal to ensure that the information they receive is as accurate as possible.
Data Backup and Recovery: In the second stage, data entered into the system experiences some archival process that ensures redundancy. Active archives are an ideal storage method for businesses that need to store large volumes of data and have it accessible.
Data Management and Maintenance: These processes make accurate data available in real-time for use and publication. To ensure that the record meets specific validations to be accessible for users.
Data Retention or Destruction: It is the final stage of the life cycle where data is retained or destroyed. But before destroying any data, it is critical to confirm if any actual policies would require your company to maintain the information for a particular time.
Benefits of Data Management and Data Lifecycle Management
Finally, I want to mention some benefits of these two powerful practices inside IT businesses. It is essential to manage large volumes of data. Your business needs to follow a strategy of Data Management best practices. Through these practices, companies can only control the power of their data and gain the insights they need to make this data useful.
In parallel with Data Management practices, there are also some benefits to why an IT business wants to implement Data Lifecycle Management processes. We can mention: obtaining compliance and governance, protecting valuable data, or making an ILM Strategy. All these benefits help businesses achieve greater agility and efficiency.
About ZirconTech: A trusted partner that helps organizations thrive in their digital transformations. Mobility, Internet of things, artificial intelligence, big data, cloud computing and blockchain technologies. We can be your nearshore partner, contact us!