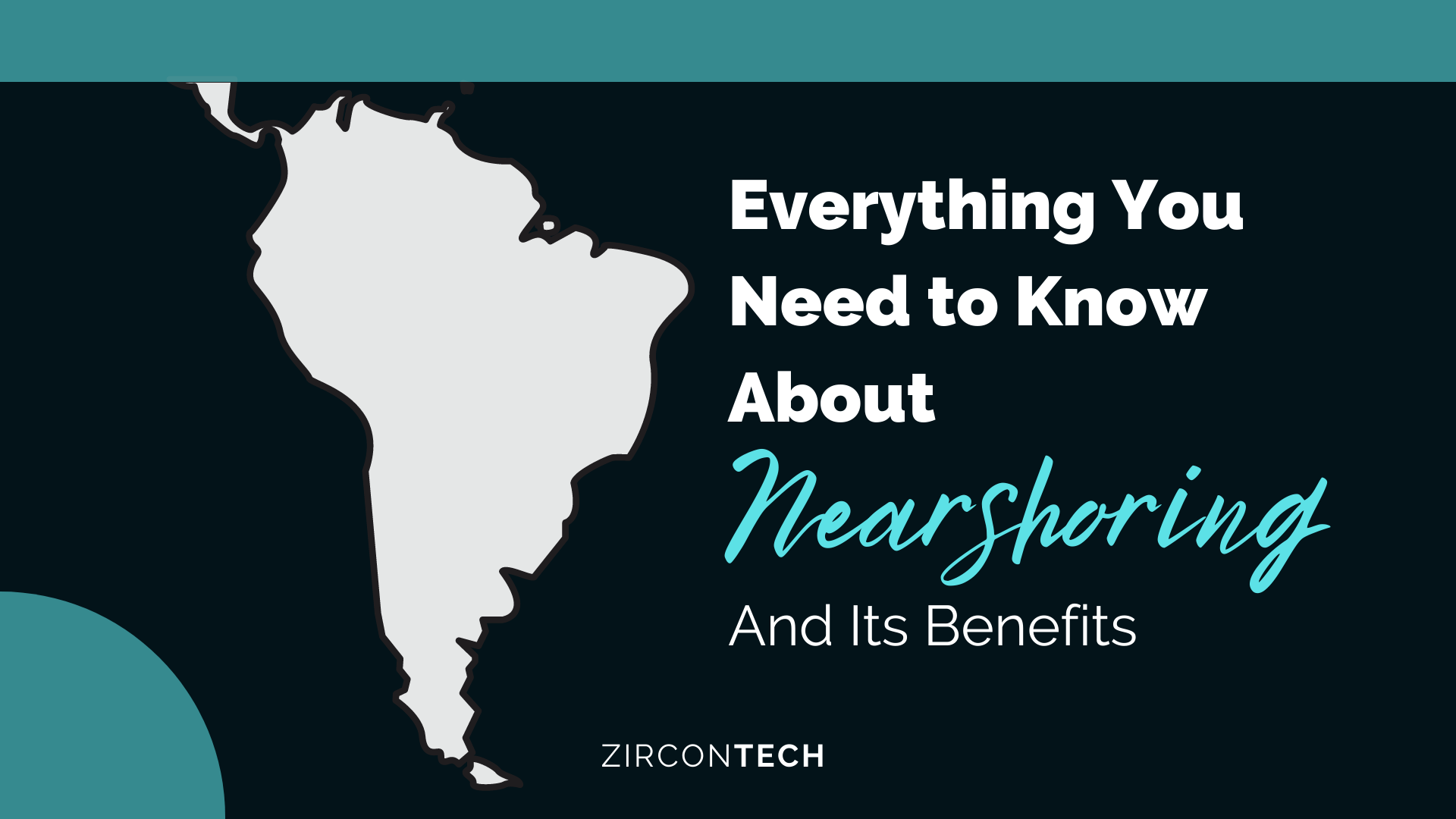 What are the benefits of nearshoring?
Nearshoring offers cost-effective labor, minimizes language and cultural gaps, ensures geographical closeness, and aligns time zones. This fosters smoother operations and strategic alignment for businesses.
Introduction
The world has become a global village that offers a variety of opportunities for companies to experiment, execute, explore and grow. In a capitalistic market, it becomes really important for any company or service provider to stay and compete well. For most of us, the world from 2020 to 2023 has been uncertain, and it reduced the chances for individuals to learn and grow. The business processes saw a major setback in terms of development, collaborations, partnerships, and providers. Explore the nearshoring benefits that can give your business an edge.
Nearshoring is a type of outsourcing that requires businesses to appoint certain processes, such as development and testing, to make them efficient and reduce costs. Companies based closer to the same time zones will share similar working hours and similar cultures. By being geographically nearer, a foreign company or a service provider can offer a reliable and stable connection to the parent company.
Cost measures have always been really important and with the delegation of major activities to neighboring countries, companies can shift their focus on other business activities and turn the table towards exponential growth.
What is Nearshore Outsourcing
Nearshore Outsourcing is a practice to get the work completed using a set of services provided by the neighboring countries and not the organization's native country. For example, any North American company would move some of its operations to Mexico or Uruguay for getting access to a wider pool of talent, cultural similarities, skills, and lower salary costs. Factors like lower language barrier, time zone compatibility, and mutual cultural understanding would enhance productivity. And this adds up to the company's profile and offers amazing new opportunities.
The Rising Trend in the Global Market
Outsourcing follows the logic and economic principles of Adam Smith who changed the horizons by studying the divisions around labor. When we chunk a set of complex tasks into specific skills and assign them to individual workers, they specialize in that particular area and become more productive. Adam Smith with his productivity and economic theories turned out to become 'The Father of Capitalism'.
The recent global pandemic forced several people to build their companies in-house and realize the importance of outsourcing, specifically nearshore outsourcing. The future of work is digital and the bots are automating most of our daily tasks. Social Media management would grow leaps and bounds, and according to a report generated by Forrester, it would experience a hike of at least forty percent. The current global situation demands the Business Process Outsourcing (BPO) partners and IT partners to possess hybrid capabilities.
"What organizations are looking for now is a flexible partner," said Barbara Hodge, principal analyst and global digital editor at Shared Services and Outsourcing Network (SSON), a professional network. "Critically, that means the ability to move seamlessly from traditional office environments to work-from-home (WFH)."
There would be some key points that nearshore clients and providers would look after which would add up to the future trends and charts. Let's have a quick look into them:-
Company's Culture and Diversity
Culture defines the ambiance that any company would carry. The more cross-culture/similar-culture diversion exists, the more openness it generates. Nearshore clients should actively engage with the outsourced teams to build an interactive cross-funcional objective towards a shared mission. It paves the path for the creation of better communities and safer workspaces that cherish both, the culture and work together.
Cost-reduction strategies and price benchmarking should be the primary goal for nearshore clients in the upcoming years. Everyone is shifting towards automation and artificial intelligence nowadays. All the BPO and IT services have shifted to automation mostly. Machine Learning and Data science have made the market more cost-effective and super reliable. Regular benchmarking provides a platform for nearshore outsourcers to explain their value to clients and build significant relationships.
Distributed Computing and Secured Solutions
Freedom from the location is the ultimate goal for the nearshore providers, and they have started investing in cloud technologies to achieve that. The exponential trend would be a decentralized framework with multi-cloud technologies. Nearshore providers are looking for a decentralized data model, instead of central data providers, that are moving towards a less network congested area, with a potential towards apt data clients.
Enhanced cybersecurity in the nearshore would help in data security and business management at an outreaching scale as well. These technical advancements and approaches would help the nearshore outsourcers to achieve the maximum nearshoring benefits and profits.
Nearshoring Benefits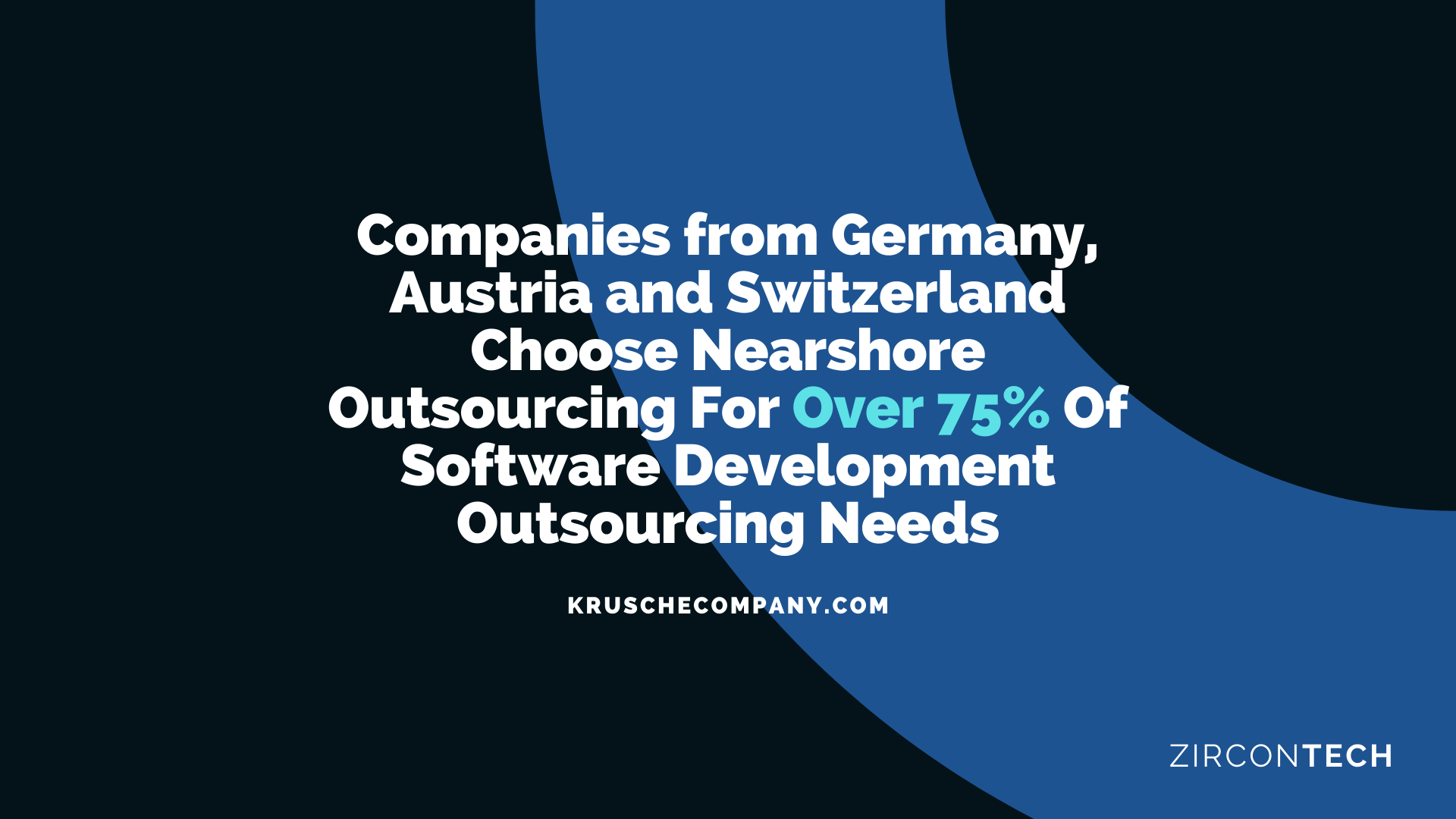 Software outsourcing has proven to improve quality and increase focus and reduce costs within the company. Most successful companies in the world used the principle of outsourcing to excel, whether that be a data service or web development. The top companies that are competing extremely well are doing so simply because of nearshoring benefits.
Let's look at some examples:-
The ubiquitous search engine earned a revenue of $26 Billion from 2016 to 2018, however, most people don't realize that the foundation of their outrageous profit margin is outsourcing. In 2014 the company was outsourcing most of its nonessential IT functions to various countries. Google used a strategy to utilize resources from abroad via the method of outsourcing. This helped Google to achieve maximum developers output in its team and attain the highest potential of itself as a company.
Millions of users use Github as a collaborative tool to share codes and build products. Microsoft acquired Github for $7.5 Billion in stock because they used the maximum benefits of outsourcing to create their network. They conducted this IT outsourcing to achieve the highest talented potential. They filled their company's skill gaps by hiring experienced professionals who built their entire backbone.
Whatsapp relied heavily on outsourcing software for its core development. The office maintenance was done in the United States but the complete app development was outsourced. They hired a whole team for iOS development via outsourcing to enhance the existing skillset. iOS app development helped the app cross milestones and it contributed to the company's success as a whole.
It is a popular communication app used by maximum workspaces when a task like app-designing is outsourced. By nearshore software outsourcing their logo creation and marketing design, the company streamlined its imperial product. Slack was able to establish a brand because of outsourcing of the app and web design. It helped them raise a $250 million round of investment with a valuation of $5 billion.
There are several examples like Opera, Alibaba, Skype, and many more who used the power of nearshore software outsourcing to upscale their company. They realized the execution of the principle which added a crest to their company valuation in the long run and helped them become a gigantic name in the industry.
Difference between Nearshore, Offshore, and Onshore
Nearshoring Benefits in comparison to other models
Nearshoring simply means outsourcing business processes to nearby nations. Business development needs smart solutions and nearshoring benefits them to create a better pool of services using global talent. In contrast to offshore development, crucial nearshoring benefits are – seamless communication, better deals, and fewer cultural differences.
For example, USA-based companies would prefer nearshoring with Latin American countries such as Uruguay, Costa Rica, and Colombia. It is less expensive and provides effective working relationships. You can visit your team from time to time to those places and ensure whether the process is being taken care of in an organized manner or not.
Offshoring
The operational activities are transferred to another country via offshoring. It has two types:
Nearshoring (in the nearby countries) and
Farshoring (to distant countries)
Reducing personnel costs is the primary goal of offshoring. Technical barriers such as poor internet connection present a major challenge in these types of situations. It is vital to note that the contractors' location is a major difference between nearshoring and offshoring.
Offshore software development yields successful businesses over time since it is located on another side of the globe, which is cheaper. Companies can hire an expert team at lower costs and access a global pool of talent. The right offshore company can assure you a wider range of services and deliverables provided under stricter deadlines.
Onshoring
Onshoring is the process used to relocate any business to a new place inside its nations' borders. It results in the quickest possible services and improves agility and cost structure within the organization. Product management becomes a flexible process, from manufacturing to supplying. For instance, a company located in California will onshore to New Jersey. Here, the states are different but the country is the same. Communication, language, timezones would fall in one place, however, if you plan to reduce the development budget, then this won't help.
Nearshoring Benefits
Easy traveling due to close distance
The close proximity of the country makes it more feasible for the teams to meet, which helps in building business relations, improving coordination, and creating social bonds. Also, these kinds of collaborations help businesses to build good relationships with neighboring countries and governments.
The cultural similarity is the key to nearshore development and partnerships. Because having almost the same lifestyle and spoken language enhances the belongingness within business teams. Instead of having teams with various cultural beliefs and language barriers, companies can opt for nearshoring to similar countries to theirs. In addition to that, this also creates a sense of trust between both the parties in their partnership.
Nearshoring reduces operational costs as we hire resources at low charges but with the same skillset and work efficiency. This eventually leads to maximization of the profitability of the business instead of having business with a country that is far away from your current location. To some countries, the traveling cost is high as the distance is larger, but in the nearshoring, the distance is less, which leads to lower cost of traveling, considering we're paying lower wages for the same work, which leads to maximization of profit.
Having close proximity with the neighboring country makes it easier because of lesser or no difference in time zones. In the case of offshoring, the time difference makes the work less efficient and creates a difference of almost 12-24 hours. However, with the neighboring country, it is easier to communicate and work accordingly because of similar working hours.
Nearshoring helps in improving code quality as you are hiring a professional and high-quality development team with comparatively less price, which is very hard to find in your native place, due to the developed economy.
When you hire a nearshore development team, they start working within days, sometimes hours, which helps you to save your time, money, and energy instead of recruiting candidates natively. In Nearshore development, teamwork with professionals is smooth and it gives better quality results because they were hired for that specific task. This helps in scaling up the product quality and improving the overall productivity of the team.
Compensation of staff shortage
Whenever any company faces a staff shortage, Nearshore development teams are the best option available to fill the requirement. It takes lesser time, lower cost, and more proficient work delivery to the clients. This leads to the upliftment of the company and helps in the shorter run to grow fast.
Improving company efficiency
Nearshoring helps in improving efficiency and saving time for in-house employees and helps them deliver the projects faster. An outsourced team can take care of the mundane tasks while the core team can focus on the bigger picture and improving product quality. This enhances the efficiency of the company because the outsourcing team plays a vital role in software development which helps in distributing the large projects.
Nearshoring means access to global talent and skills. When you hire a nearshore development team, you get to know their previous work and achievements. Connecting with them creates a bond that helps you to grow your network worldwide. Directly or indirectly, it helps you and your company to see things differently and find new and creative solutions to your problems.
Conclusion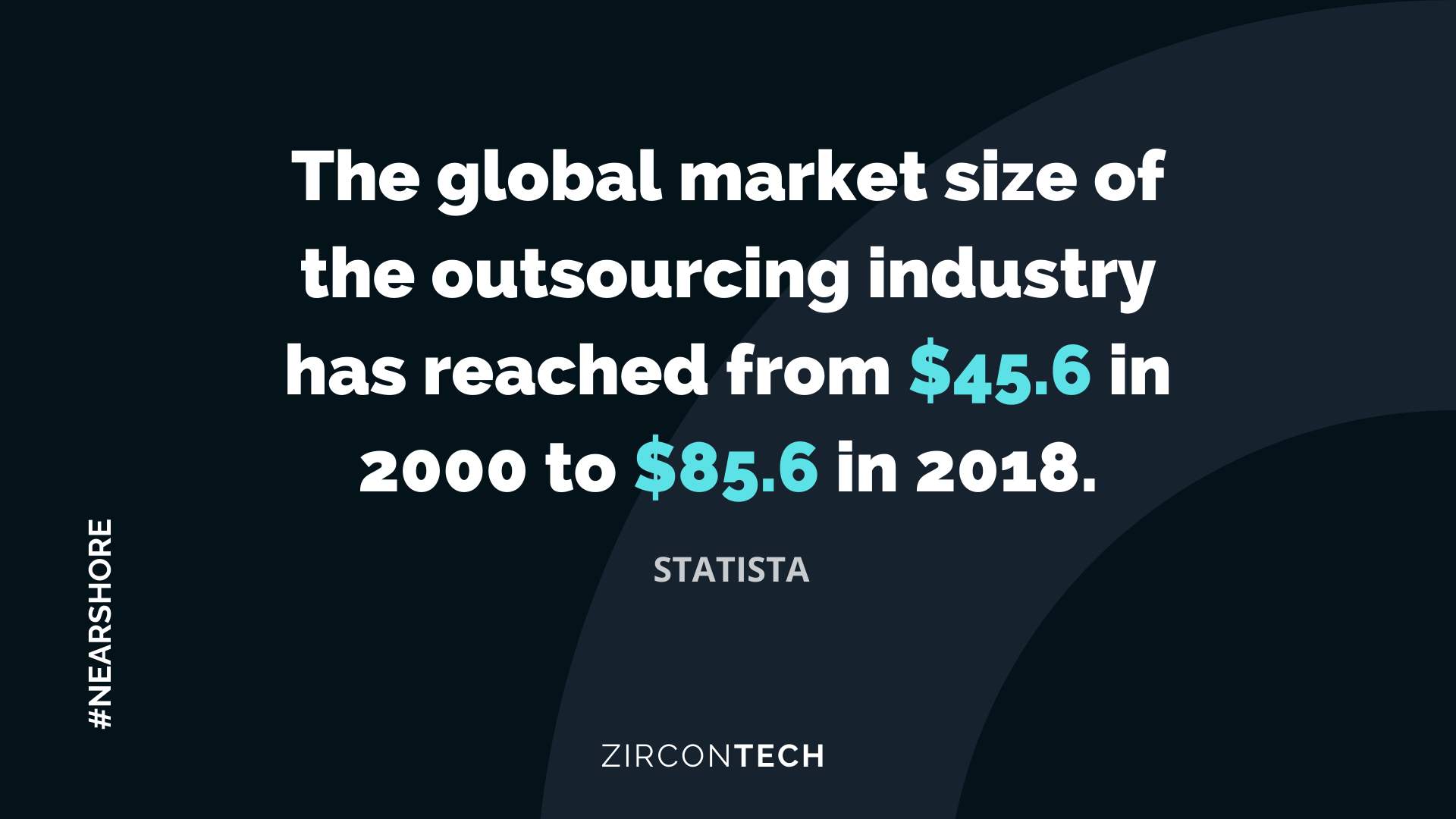 Management and consistency are the keys to nearshore software outsourcing. A poorly managed outsourced resource would not be beneficial to the company, instead, it would add towards a higher risk of job loss within the organization. The organizational trust would be at risk if the employees feel that their jobs are threatened because of outsourcing.
Transparency should be kept intact while outsourcing – whether it be nearshore or offshore.
Nearshore outsourcing can offer at least 30% of growth to markets by the end of 2022. It has broken European charts with a fine curve and reaching substantially larger audiences. The Nearshore development service market has enhanced standards in terms of quality and quantity. Companies can now involve themselves in innovations and build across strategic partners and teams. These are just a few of the nearshoring benefits that can really help your business grow in 2023.
Are you looking to stay updated with the latest trends, insights, and advancements in the tech industry? We have just the resource for you! Discover ZirconTech's Most Viewed Articles page – a hub of our most engaging and thought-provoking content. Whether you're a seasoned professional, an aspiring entrepreneur, or simply a curious mind, this curated selection of articles offers a gateway to a world of knowledge and inspiration. Unravel the exciting possibilities that lie at the intersection of technology and human potential, and join us as we explore the transformative power of innovation. Click here to uncover the future that awaits us in the digital age​.