What is Tezos, and how is it different from other smart contracts platforms such as Ethereum? Let us expand your understanding by examining the history of Tezos, and explaining the innovative advantages it brings to the world of blockchain technology.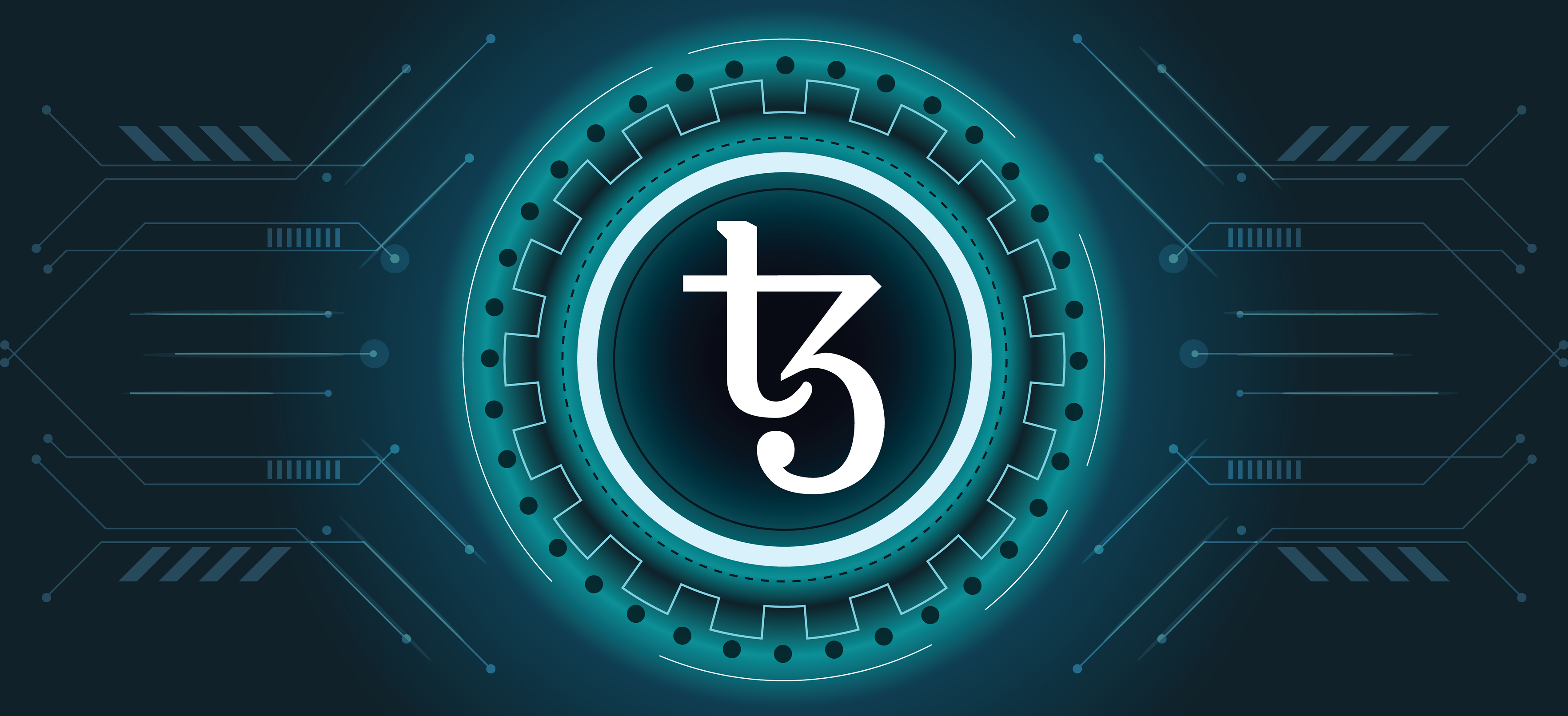 The history of Tezos
Tezos was created in 2017 by husband-and-wife team Arthur and Kathleen Breitman. It is a blockchain network associated with a digital token known as a Tez, or tezzie, which has the symbol XTZ.
It represents a step forward from the initial blockchains such as Ethereum and Bitcoin. That is because, in the operation of those early pioneers in the crypto sphere, decisions were centralized and remained in the hands of the main development teams and mining communities.
The result was a shortfall in terms of flexibility, and which led to difficulties and delays when a blockchain was split into more than one project.
Tezos describes itself as a "new decentralized blockchain that governs itself by establishing a true digital commonwealth". That means that holders of a Tez token have an unrivaled level of input into decisions over the governance of the platform, and increased opportunities to make improvements to it.
The Tezos Foundation raised an impressive $232million in one of the biggest initial coin offerings seen up to that point. Its testnet launched in June 2018, and the mainnet went live three months later.
How does Tezos work?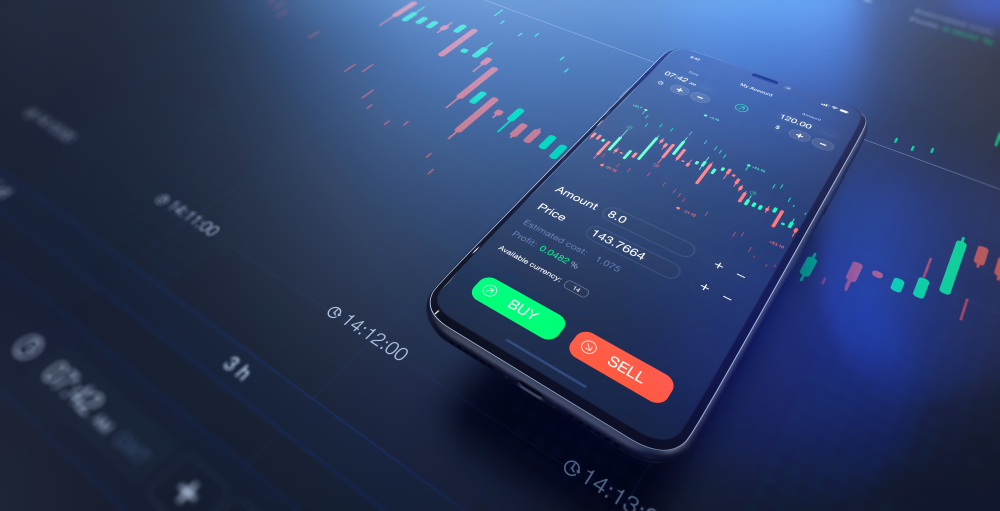 The key concept that must be grasped when it comes to understanding the use and benefits of the Tezos ecosystem is on-chain governance. Traditional mining relies on the proof-of-work consensus, but with Tezos token holders receive a reward for taking part in the proof-of-stake mechanism.
This is a notable point of difference when comparing Tezos with Ethereum, two crypto ecosystems that otherwise have numerous similarities. In an ecosystem that uses on-chain governance, token holders can vote on future decisions made by the network.
So, in a case where a developer suggests a change designed to enhance the blockchain, all holders have the chance to vote on the proposal. If the alteration is passed by this vote, it is tested and, if verified, put to another vote and implemented on the network.
The two main advantages of on-chain governance are the fact that it incentivizes developers to keep innovating and bringing new ideas to the ecosystem, and the fact that all stakeholders can participate in a democratic process to implement those ideas.
One other factor that sets Tezos apart from Ethereum is its functional language, which enables formal verification. This means that developers can prove, to an extremely high standard, the mathematical correctness of their smart contract code.
The overall impact of on-chain governance and the proof-of-stake system is that this is a blockchain that should evolve smoothly and rapidly, with upgrades implemented as a result of consensus among its community.
One way in which Tezos is being brought more closely together with Ethereum, thus creating a greater sense of unity in the crypto ecosystem, is through the creation of a cross-chain bridge.
Thanks to the development of this protocol, some Ethereum tokens can now be made compatible with Tezos, meaning ETH holders can now interact with Tezos.
Experts agree that Tezos is one of the most interesting and potentially progressive crypto projects because of its unique features of on-chain governance and the proof-of-stake approach.
As this blockchain continues to develop, its flexible and agile approach will undoubtedly lead to increased interest.
How ZirconTech's Blockchain Consulting service can help you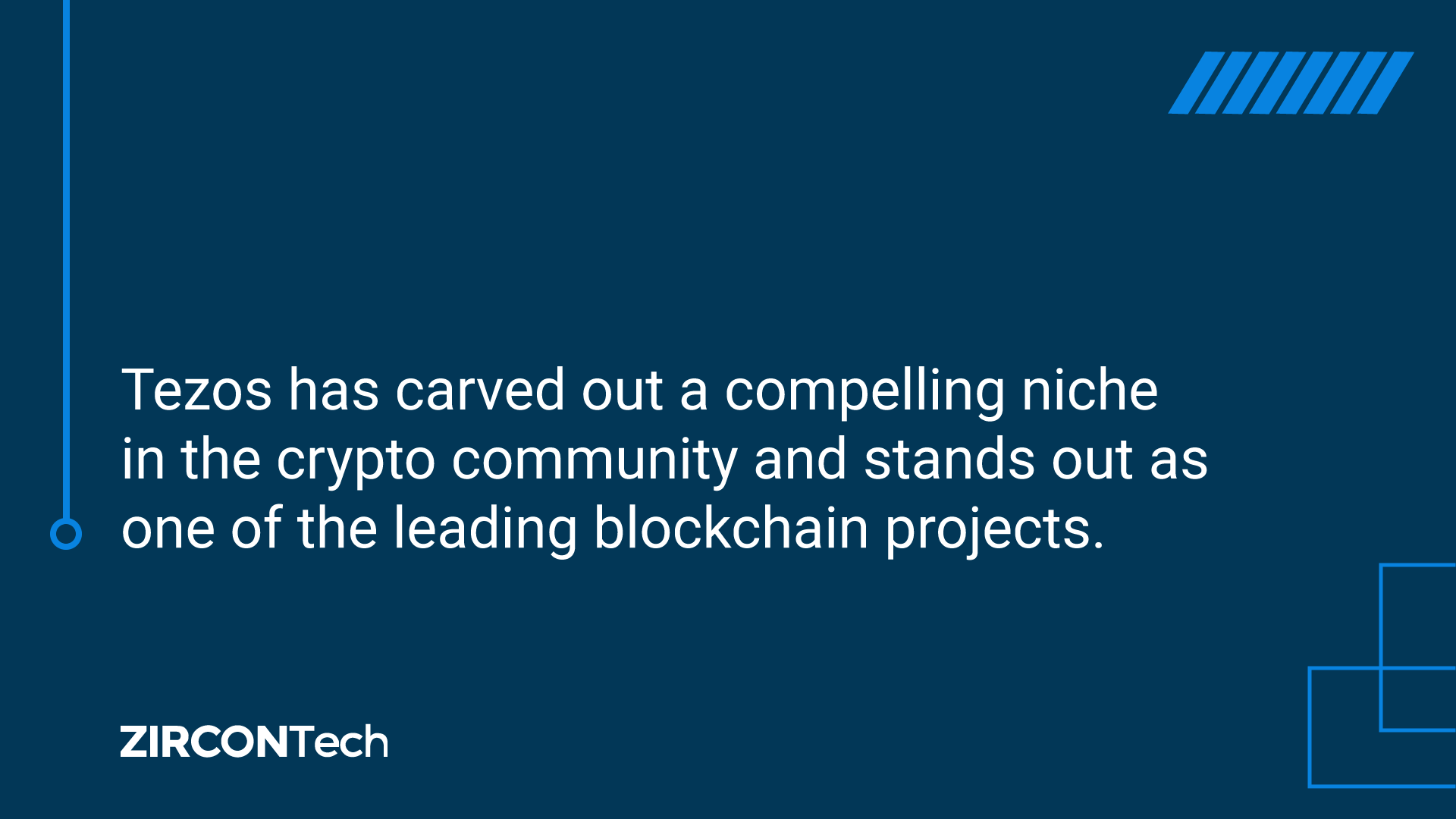 ZirconTech is proud of its status as a pioneer blockchain development company. Our focus is on transforming industries in locations across the globe.
We are acutely aware of the potential benefits that Tezos brings to the crypto space. Its versatility and focus on innovation fit neatly with our philosophy of creating decentralized blockchain networks that deliver real benefits for our business partners.
With the help of ZirconTech, your organization will be able to create new business models and to increase the traceability of data and transactions.
Tezos has carved out a compelling niche in the crypto community and stands out as one of the leading blockchain projects. It has a clear potential to maintain its upward trajectory thanks to the quality of its developers and the community structure that allows it to move forward innovatively.
To find out more about how Tezos can help you, and how ZirconTech can create truly bespoke business software development solutions that generate maximum benefits for your organization, get in touch with us today.