Working with Cloud platforms for many years, we have developed the expertise and framework to deliver consultancy services for cloud adoption strategy, application transformation, and support. We have experience with Amazon Web Services, Microsoft Azure, Google Cloud, IBM Cloud and OpenStack (including, IaaS, Containers, Serverless technologies among others).
Scalable platforms have become increasingly important in today's digitally connected world. To enable digital products through a robust architecture we apply our best practices and patterns in the designing of backend ecosystems which allow us to enable businesses to accelerate in an agile way. We have a wide array of experience in providing backend solutions that support scalability, security, availability, performance, quality and high adaptability to internal and external integrations.
Gartner has identified several business objectives driving platform trends in 2020:
– Business success demands continuous real-time intelligence
– Technology innovation demands excellence in cloud-centric computing
– Business innovation demands a new level of business-IT collaboration
And Gartner's key trends in PaaS (Platform-as-a-Service) and platform innovation could be seen in the following chart: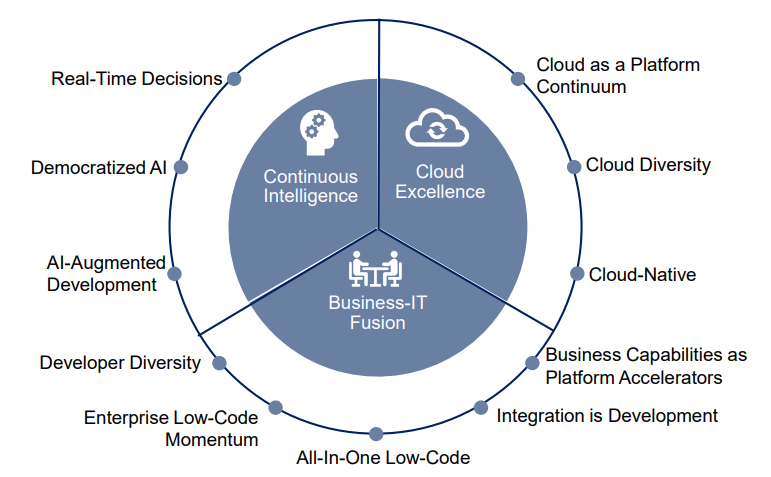 ZirconTech is following all these trends to help companies to get aligned with current and future business and technology scenarios.
Consultancy services for cloud adoption strategy
Digital transformation initiatives include cloud projects that can be very complex, and there are multiple scenarios from small to extremely large. ZirconTech can help companies to understand where they are to create a roadmap for an increasing cloud adoption path. Clouds could be hybrid, involve multiple vendor, be private or public, and we can help companies to understand the best fit scenario considering the starting point, the organization culture and economic reality.
Our goal is to deliver a customized solution using cloud and digital transformation technologies to maximize the organizations potential and bring a concrete impact on the business. ZirconTech will always bring customization to meet the demands of the customers' business and unique needs.
Strategy and roadmap definition in digital transformation initiatives
– Current state assessment (AS-IS), technology and business needs
– Design a framework model to minimize disruption in the current scenario and accelerate the adoption of the new technology landscape
– Create a business and technology roadmap having in mind the impact and ROI (return on investment)
– Integrate the framework model and the cloud strategy with current enterprise technology initiatives and general information technology strategies.
Implementation and management
Multiple scenarios could be addressed. From data center migrations, application transformation for a cloud-first organization approaches, to developing new applications in the cloud.
ZirconTech helps companies to build a reliable technology baseline for business growth and innovation, including sound capabilities in agile methodologies and DevOps delivering with minimal.
There's no cloud strategy without considering current economic scenario and business goals. It is important to identify key challenges and come with a right solution. The process will address problems and opportunities very specific to customers organizations. Strategy implementation must consider company reality and create a tailored roadmap of continuous digital transformation.
Cloud technology assessment and business needs
Assessment of the current state of the technology landscape and accelerate cloud adoption initiatives.
Best practices for cloud adoption acceleration. It is very important to understand the company reality and potential impact in the organization and the financial requirements. Lots of organizations are already going through cloud usage, many have tested advanced concepts in pilot applications or services but have not thrived to scale organization wide and converted into repeatable processes.
One view could be looking at Gartner's cloud-native platform experience chart.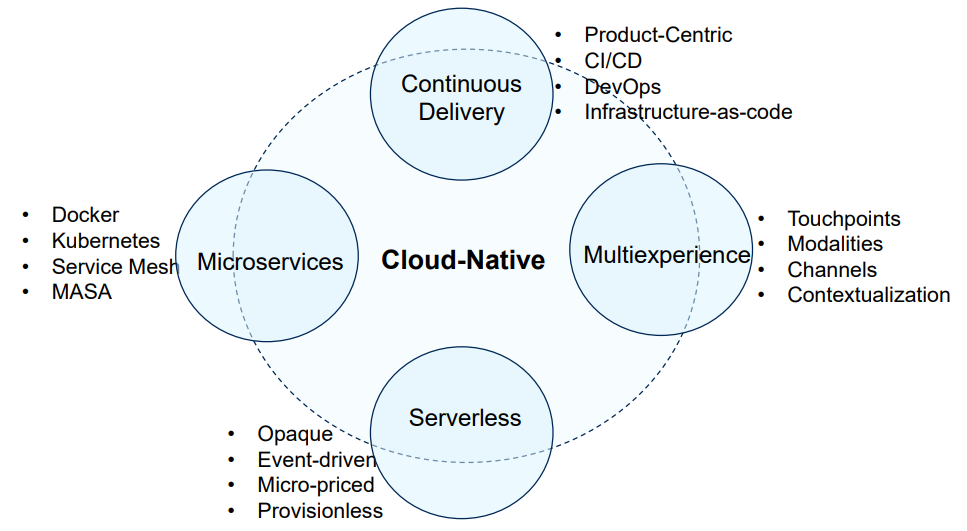 ZirconTech can check current organization's processes, identify the technology infrastructure and applications landscape scenarios, considering key aspects to prepare for an increased cloud migration or new implementations. From the current state (AS-IS), we will identify important gaps, and create a future scenario (TO-BE) with a roadmap including specific initiatives, actions and tasks to address the transformation.
Creating a business case for cloud initiatives
The goal is to accelerate the adoption of a new technology landscape while designing a framework model to minimize disruption in the current scenario.
The current scenario (AS-IS) and future landscape (TO-BE) will have important financial implications. Creating a right business case is very important because we need to consider not only cost savings around physical infrastructure and its migration to the cloud, which includes software licensing, release of physical assets and real estate infrastructure. There are short term changes but also we need to look at the future considering all the additional capabilities and gains that could be achieved with new models of operations, accelerated time to market, innovation, customer retention and acquisition, etc.
Gartner's view of Business-IT Continuum: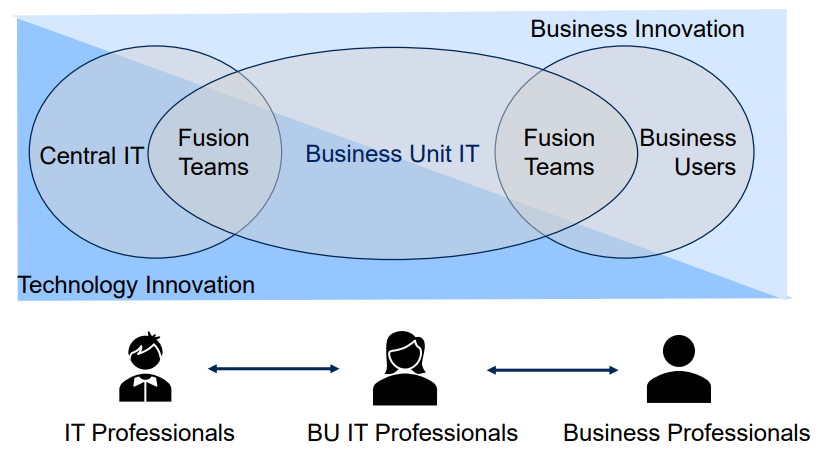 Operations models in cloud environments
Increased cloud adoption environments require teams with automated processes enabled by DevOps and clear policies and responsibilities across involved teams. Creating pilots in specific environments with key employees to expose to a new operation culture, understand what works fine and what doesn't bring advantage is a proven success path. After those initiatives we can work with the company to define a customized operating model that fits better and a roadmap for further implementation.
In the digital transformation process when organizations increase the cloud adoption we need to consider the scenarios where different groups manage to adopt new technologies and handle the legacy technologies and processes. We need to consider these challenges in the plan and work together with an agile mechanism to have a successful adoption.
Gartner's integrated low-code suite vision:

Creating a cloud adoption roadmap
The business and technology roadmap must have in mind the impact and ROI (return on investment). The implementation activities will get from the current scenario through possible steps.
In this step it will be considered the best cloud technology models for your company, including the options of public, private, multi cloud, or hybrid, and what are the most suitable vendors. A detailed implementation plan will follow addressing topics like governance, security and risk management whenever needed.
We can help with proof of concepts and pilots to evaluate cloud technologies, applications and vendors, in order to take the best and effective strategic paths.
Yefim Natis, Distinguished VP Analyst at Gartner recommends several aspects in 2020 that we consider in our projects:
– Fund diversity of platform technologies to be ready for the key trends in IT early, by avoiding exclusive long-term commitments to any platform solutions
– Break boundaries between central IT and business units to deliver continuous business innovation, by prioritizing democratized technologies and establishing business-IT communities and practices.
– Take a decisive position on cloud computing to eliminate confusion and conflict in tactical technology decisions, by creating a clear and concise cloud strategy statement
– Take manageable risks with leading edge technologies and unfamiliar architectures to achieve continuous intelligence for your business, by using event processing, augmented analytics, AI/ML and real-time decision automation.