IT sector is spreading its root at a rapid pace, and it has brought a lot of innovation in the world and become far more than a platform for the business to run on. IT has now become an essential driver for business growth anywhere in the world.io funcione. La TI se ha convertido ahora en un motor esencial para el crecimiento empresarial en cualquier parte del mundo.
IT software development and outsourcing market are also growing at a0n extensive rate as an increasing number of companies and industries are turning towards software development to reach or access the market quickly and efficiently and create advanced solutions for the problems and provide customer services to the world full of innovation.
Why Nearshore Software Development In South America?
South America region has grown so much and so fast in the IT sector. Uruguay is one of the Top leading nearshore software developers in South America and according to the Ministry of Education and Culture 2012 UDELAR census, it was mentioned that 75% of its university students are able to read the English language whereas about 55% of the students can speak it.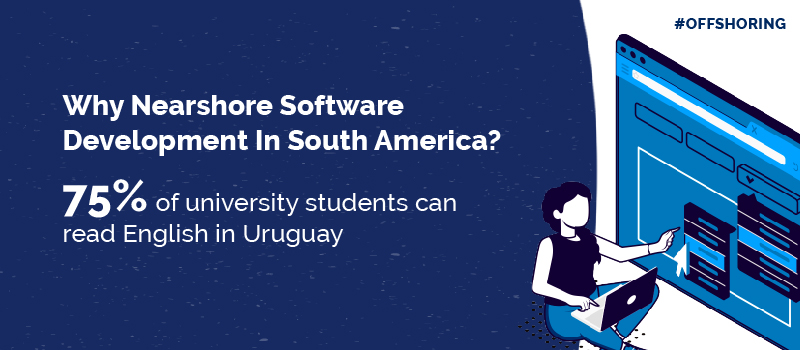 The people from Uruguay, Argentina and other others from South America are more aware and socialized with the world. They know about facts and figures and proper use of online services and facilities. This is because the literacy rate is high because of universal public degree courses that are offered to the citizens. Uruguay also became the first country in the world to provide a free laptop to all public school students and teachers. This means the youngest generation is the most tech-savvy that South America has ever seen.
YOU CAN BE INTERESTED IN THESE ARTICLES TOO:
1. Cost-Savings Benefits when Offshoring software development
2. How Offshore Software Development can help your company growth
3. Offshoring software development in South America
4. Pros and Cons of Offshore Software Development every CEO needs to know
The top countries to hire a software developer in South America are:
· Uruguay
· Argentina
· Puerto Rico
· Colombia
· Brazil
· Peru
These nations have shown the steadiest development and the most alluring financial environment to stand out enough to be noticed of worldwide organizations from everywhere the world. This makes Nearshore Software Development in South America very important.
If you want to to learn more about the benefits of offshoring don't miss our last guide made for CEOs: The Ultimate Offshore Software Development Guide
Why Nearshore Outsourcing Became Popular in the Last Decade
Nearshore Outsourcing implies that you give programming and software development or certain errands to organizations situated in the geological vicinity of your country. At the point when you employ a nearshore organization, the distinction among you and the project worker ought to be from 1 to 3 hours. This reduces time and communication barriers.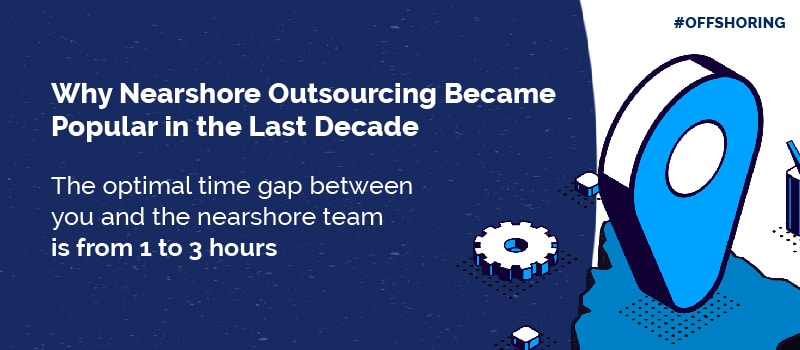 Outsourcing turned into a necessary chore by furnishing organizations with adaptable alternatives. Explicit assignments could be moved to IT teams without the overhead expenses related with recently added team members.
To keep a competitive edge, organizations need the information that lone ability with a significant degree of expertise can give. Outsourcing helps these particular specialists to be contracted at lower costs for software development work.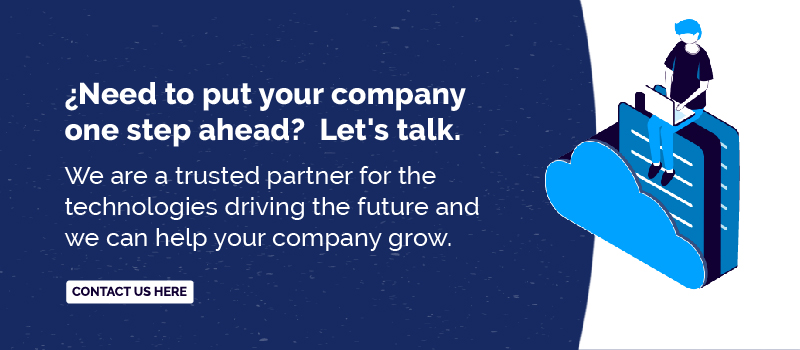 Nearshore Software Development in South America and Outsourcing
South America has its roots deep wide in the business and IT sectors, due to which nearshore software development in South America is a major hit for this country. IT outsourcing in this country became more prominent over the past few years. Outsourcing is helping in growing software development more with cost reduction resulting in giving major benefits to the nearshore businesses.
In the current era of innovation and trade, a lot of US-based organizations and businesses are turning to South America for outsourcing as it has good nearshore software for higher quality and good time zone.
Advantages of Outsourcing to South America
As should be clear, there is a great potential for nearshore software development in South America and outsourcing, and it can be an exit plan for various organizations. Here are a few benefits and advantages that companies have when they outsource in a continent like South America.
· Cost-effectiveness
· Talented and dedicated workers
· A productive environment for Business
· Cultural similarities
Nearshore vs. Offshore outsourcing
Nearshore outsourcing involves the geographical proximity along with the similarity of time zones for the countries. Considering the example of South America, it can work as nearshore to grow business at a rapid pace with more cost reduction benefits. But if we consider the example of Asia, then it becomes offshore outsourcing due to differences of distance and time zone.
Price is the main thing to consider when you are selecting between nearshore or offshore concept. There is a high price for the nearshore services as compared to offshore services, but the advantage is that you can expect these nearshore software development in South America prices to be much lower, about 2 to 3 times less than in the US.
We have made a list of the following points that will help you to consider a lot of things while choosing to go for offshore or nearshore outsourcing.
Location
The nearshore software development approach basically relies upon the location for outsourcing. While choosing any organization that is outsourcing, you should be aware about all the number of specialists which are qualified in the country.
When you are deciding to choose between offshore or nearshore, then you must know that the location is a very important factor for your outsourcing company to perform well for benefit.
Cost-Effectiveness
Organizations are using outsourcing strategies to cut costs. What's more, you don't need to enlist designers, pay rents or wages, or provide facilities to the members or workers. Because of the way that normal outsourcings nations are progressing well, the valuing can be fundamentally lower than in developed nations.
Closer Collaboration
Another benefit of participation with a nearshore software development in a South American organization is a brief distance between both the developer and the organization. With the improvement of innovations, the world's decreasing and you can take care of the vast majority of the issues by means of telephone.
However, once in a while, your actual presence might be required, so there could be no other choice except for going to your partner to have a meeting.
Less Demands on the In-House Team
Organizations chose to move to South America in light of the fact that the locale offered a significant number of the components organizations were searching for while outsourcing, like exceptionally skilled developers and more imaginative development strategies.
The political, social, and monetary advancement in countries like Uruguay isn't simply helpful to the locale; however, it is additionally valuable to the unfamiliar organizations that are outsourcing to address the IT requirements.
Benefits of Working with Nearshore South American Developers
South America is a good record of developers that can perform well to outsource and are still eager to do better work for nearshore businesses. There are several benefits that organizations get.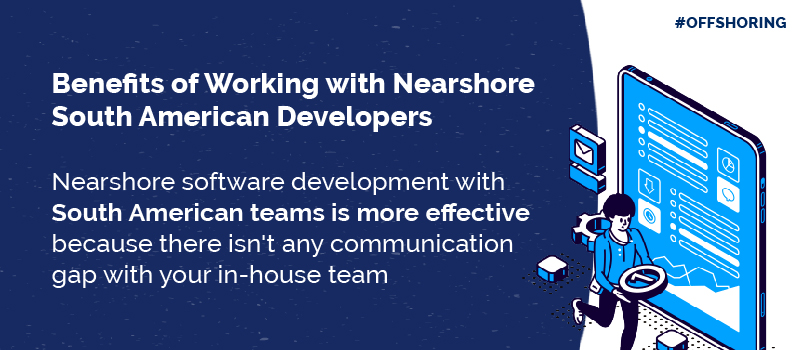 Experienced Talents in No Time
This benefit can be applied to any outsourcing type, but the fact of the matter is you don't need to go through weeks searching for qualified and skilled talents among the entirety of their CVs. These activities expect you to have an HR division.
The nearshore software development in South America team has developers who have been working on many projects recently, which makes it easier and more effective as the team members don't have any communication gap after this, and they also have some experience gained in this regard.
In case that you need more developers for the improvement of extra highlights, nearshore software development in South America gives out more talented experience as you scale.
Price and Quality
When working with nearshore software development in South America, you don't need to stress over reducing the quality and nature of work at lower costs. South American governments put resources into specialized instruction, which considered the foundation for abilities and talents to thrive.
While transformation rates from the U.S Dollar to any South American cash are good, the genuine advantage comes from the enthusiasm that South American engineers have for their work and their energy to take an interest in the U.S tech market.
International Experience
South America is open for international business, and it draws in numerous worldwide organizations that need to exploit the advantages that remote engineers have to bring to the table. Numerous capable designers have worked with worldwide associations on projects, acquiring novel thoughts and abilities simultaneously.
South America's cost-effective ways, joined with the business environment and skilled developers, is the reason that nearshore software development in South America is progressing at a rapid pace. The companies are starting to search for outsourcing firms that can help in both offshore and nearshore Software development in South America.
Scaling Flexibility
Having the option to extend and cut back rapidly is an extraordinary upper hand for organizations that are delicate to the change. Employment laws and guidelines may convolute the interaction and put an additional expense to it; outsourcing gives organizations greater adaptability here and an opportunity to work quicker in this sense.
Impact of Time Zones on Cost
Time zones can have great impact on nearshore software development. If you are working for agile software development, then this significantly leaves a greater impact as reduced time difference allows less response time in the work.
This also helps synchronous communication, which makes it easier resolve issues if there are any. This is the reason why South America time zone has a great advantage on nearshore software development by focusing on Agile driven models.
Distance and Cost
Taking into account that everything happens online these days, you may believe that distance shouldn't be an issue past the time difference problem. South America emphatically advocates assembling an incredible relationship with the offshore software development team because it is more effective when nearshore software development in South America isn't growing much.
The nearshore software development in South America is best as you can meet the partner or the person within no time if you need to discuss some matters in real-time. The face-to-face deal is more ideal, and it makes IT outsourcing more secure and easier for the teams that are working on the software development.
High Internet Connectivity
South America has high-speed internet connectivity, and Uruguay is one of the most progressing parts of it. Uruguay residents are now more connected than ever. The high-end internet connectivity is making it easier for organizations to connect and communicate via Google chat or Skype. Uruguay gets benefitted from nearshore software development in South America, and here are some quick facts about it: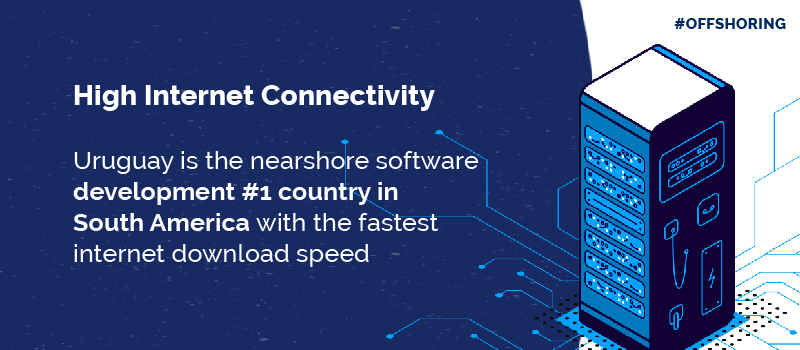 · Uruguay is the #1 for having nearshore software development in South America with fixed broadband internet connectivity. It has the fastest internet download speed.70% of the population of Uruguay owns a computer system.
· All of the schools and educational institutions within the country have an optical fiber connection.
In case that your research cost only reliant on incomparable figures, your most ideal choice will undoubtedly be Asia as you will consistently get statements only. Taking everything into account, any specialist from another piece of the world will charge you less for the administrations while you will get higher rates inside South America.
In any case, when choosing cost capability, you need to investigate a lot of elements other than the quick expense cost of that project.
Better Intercultural Communication
We know that social and cultural differences can become a huge test to cost and productivity. The proximity and a long history of exchange and collaboration imply that individuals in South American nations comprehend U.S. culture far superior than those from Asia.
This removes the communication barriers, and it is less likely to cause any mistakes or misunderstandings. A group from any country will realize that you anticipate that they should be proactive, though an improvement group or the development group from any other country will anticipate that you should give exact guidelines for each step. If you don't, then due to a communication gap, they will not go according to your guidelines since they'll believe that it's not what you need.
Cultural and Social issues may appear to be little and insignificant from the start. Notwithstanding, when you begin working with a group whose culture is immeasurably not quite the same as your own, and you're not aware of that distinction, your project can go into a loss.
Language
When you connect the in-house staff with the outsourced teams in South America, this will create a sense of brotherhood and comfort zone, and it leaves an open communication too when they talk on the phone or through messages. The high-level outsourcing companies choose your preferred language to work with and take care of your necessities.
Cost-Reduction
Cost-Reduction is without a doubt an essential role for outsourcing as employing capable specialists in the US, particularly those in fields of software development, is probably going to cost a lot more than the amount in contrast with somebody with a similar range of abilities in South America.
You can take the example of a developer from the US who may work at an hourly pace of USD $100 while a similarly qualified nearshore software developer in South America might be accessible for work and will play out a similar task at a lower price of USD $60 hourly.
Proficient Focus
Not all organizations have the data transfer capacity or experience to deal with a designing group in-house. Outsourcing advancement can give a layer of solace, realizing that their application is being created, permitting supervisors to focus in on things that matter.
Admittance to Assets or Resources
Only one out of every odd organization can afford to include all the essential assets inside the association. Outsourcing assists new organizations with welling set up ones to get to these assets and innovations through mediators and utilize it however long they need it.
Conclusion
This was a detailed discussion on Nearshore software development in South America and all of the advantages and disadvantages. Outsourcing is explained in-depth with its benefits and social effects on the business of different organizations. This was complete detail, and if you have more questions, you can comment in the box given below.
If you want to to learn more about the benefits of offshoring don't miss our last guide made for CEOs: The Ultimate Offshore Software Development Guide were you will understand the Benefits of Offshore Software Development, it will help you to find the best offshore development company partners and how to manage an offshore software development team
FAQ's
What is nearshore outsourcing?
A nearshore is an outsourcing form that refers to the services which are delivered from a nearby location. This concept first arose in 1997 by Softtek. Nearshore software development services emerged for businesses looking to reduce operational costs while having access to a global talent pool.
What is nearshore software development?
Nearshore software development in South America or outsourcing means that you provide your services of software development or certain tasks to organizations that are located in geographical proximity to your country. The maximum difference of time between you and the hired nearshore company should be between 1 to 3 hours.
What are outsourcing services?
Outsourcing services means the actual practice of passing tasks or business processes for an organization or a third-party and receiving profit from them in return.