Although the first NFT was created and shown to the world by Kevin McCoy and Anil Dash on May 3, 2014, at a conference at the New Museum in New York City, NFTs have recently obtained notoriety because they are becoming an attractive way to buy and sell assets as digital artwork. Since November 2017, an incredible 174 million dollars has been spent on NFT.
A group of experts thinks they're a bubble that will pop, but others believe NFTs are changing the way people are investing and that they are here to stay. There are many questions about NFT, and we will analyze this fantastic world in this article.
What Are NFTs?
Non-fungible tokens (NFTs) are digital assets representing real-world objects like photos, videos, audio, in-game items, and many other types of digital files. They can be bought, sold online, and they are usually encoded with the same underlying software as many cryptocurrencies.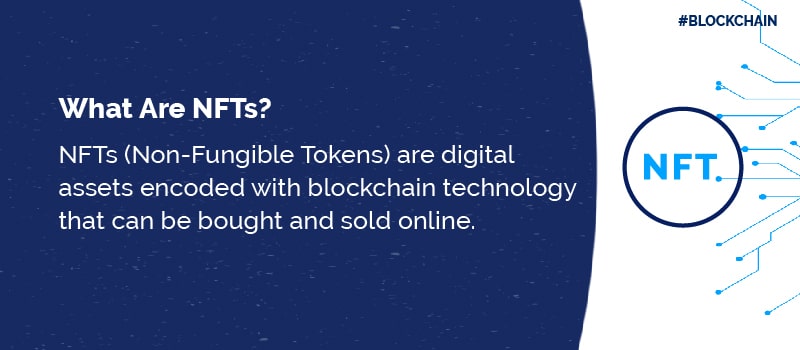 Unlike most digital creations that are almost always infinite in supply, NFTs are usually one of a kind or one of a minimal run and have unique identifying codes. NFTs allow buyers to own the original item, and they contain built-in authentication, which serves as proof of ownership. Sometimes those "digital rights" value relatively more than the item itself.
YOU CAN BE INTERESTED IN THESE ARTICLES TOO:
1. Benefits of Notarization with Blockchain
2. Smart Contracts with blockchain: Monax success story
3. Smart contracts with blockchain: Clause.io business case
How NFT Works?
Non-Fungible Tokens (NFTs) are single tokens encrypted on the blockchain network. NFTs function like cryptographic tokens, but unlike cryptocurrencies such as Bitcoin, NFTs are not interchangeable or not fungible. The most crucial feature of NFTs is that they certify unique and proprietary assets that cannot be changed.
NFTs use Blockchain infrastructure to manage digital storage of any kind of visual, audio, or written works. Most of them are part of the Ethereum blockchain that supports NFTs. We can say that an NFT is unique because it is tied to the token. NFTs have metadata processed through an algorithm that computes a unique string of letters and numbers called the "cryptographic hash function."
Examples of NFTs
The scope of the NFT covers anything that is unique and requires demonstrable ownership. Although the NFT world is relatively new, today can find different kinds of examples of NFTs such as:
Unique Digital Artwork
Foundation helps creators to auction their unique digital artwork as NFTs on the Ethereum blockchain. With their bids, collectors feed a new system of value for online expression. NFTs are helping artists, musicians, and all kinds of digital creators to invent a new cultural paradigm.
The Future of Collectible Sneakers
The X Evolutions is a next-gen sneakers studio creating the future of collectible sneakers for the metaverse. It is a project by RTFKT studios created in collaboration with the Artist MGXS. This design is unique and will never be made again. The Sneaker will be "hypercrafted" by the expert RTFKT team with premium leather and materials.
A Fully Decentralized Virtual World
DAO stands for "Decentralized Autonomous Organization," and it is the first fully decentralized virtual world. Thanks to the NFT technology, users can control these virtual spaces. Through the DAO, the community will propose and vote on policy updates. Users are in control of the policies designed to determine how the world behaves.
What Is the Point of an NFT?
NFTs are getting very popular in the art world because an NFT allows the buyer to own the original item. It contains built-in authentication, which serves as proof of ownership. These kinds of features are very valuable for both artists and collectors.
Since the minting artist is always listed as the original owner of the digital artwork linked to the NFT, it provides clear and unique evidence of ownership and authorship by the artist. It is essential to clarify that minting authenticates an item on Ethereum's blockchain by assigning a token like a digital record.
Fungible And Non-Fungible Tokens
The comparison between Fungible Vs. Non-Fungible Token is a critical aspect that can define the future of the blockchain ecosystem. NFTs provide a clear improvement over fungible tokens in terms of security and immutability.
As a new technology, ordinary users may have difficulty trusting NFTs, although they have a broader acceptance in the blockchain ecosystem with prominent arts and gaming applications.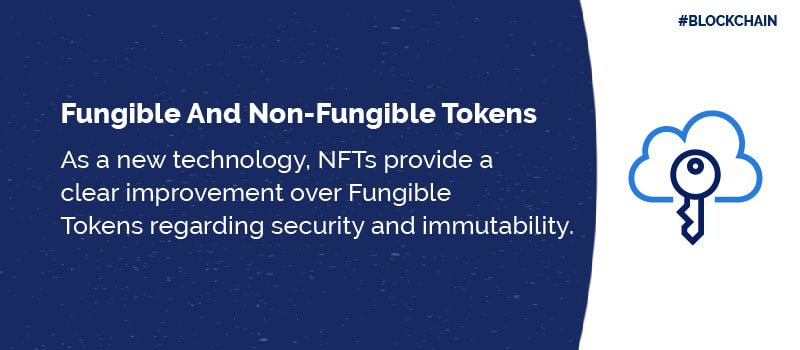 The Difference between Fungible And Non-Fungible Tokens
For fungible tokens such as Bitcoin, fungibility is scripted in the code of the cryptocurrency. A fungible good is standardized, and the units of fungible goods don't have any uniqueness.
In contrast, NFT features unique features that indicate restrictions for replacing or exchanging it with an identical token. Therefore, NFTs serve as a unique token variant without any interchangeability with other tokens.
NFTs are different from cryptocurrencies because they don't have any inherent value, and they receive discounts from the assets or goods represented by them.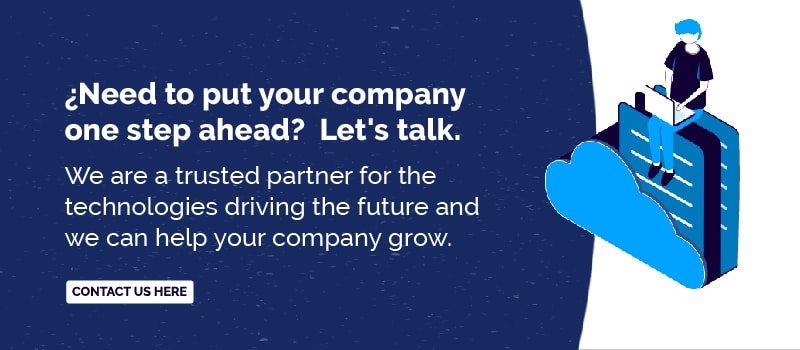 What Are Fungible Tokens?
One of the most known types of tokens is fungible tokens. Cryptocurrencies like Bitcoin are fungible tokens, which means that each cryptocurrency unit is the same as any other. For a token to be helpful as a currency, it needs to be indistinguishable from the other tokens in the same ecosystem.
For example, Bitcoins aren't more valuable or rarer than others. If you own one unit of Bitcoin, it doesn't matter which exact Bitcoin you own. These tokens are interchangeable and indistinguishable like regular government-issued money.
What Are Non-Fungible Tokens?
The other most known types of tokens are non-fungible tokens. Non-fungible means that each token is unique, and there's no standard value for a token. Each token represents unique, distinct ownership information. So you can't necessarily exchange one token for another equally.
Non-fungible tokens are adequate when we need to prove ownership or identity. They belong to a completely different protocol for their creation than fungible tokens. Non-fungible tokens are different from their fungible counterparts, even on the basis of the source code. For instance, in Ethereum, fungible tokens follow the protocols ERC-20, while non-fungible tokens follow ERC-721.
NFT and the Ethereum Blockchain
Non-Fungible Tokens (NFTs) are tokens secured by blockchains such as Ethereum, they can only have one official owner at a time, and no one can modify the record of ownership. Users can use NTFs to represent ownership of unique items like pieces of art, collectibles, and even real estate.
NFTs are powered by smart contracts on the blockchain. They provide content creators more power than ever before, and they are a way to represent any kind of unique digital artwork.
The Internet of Assets
One of the significant problems on the internet today is that as everything becomes more and more digital, there's a need to identify physical things like uniqueness and proof of ownership. NFTs can solve this kind of problem by giving the user tools to represent ownership of unique items.
Today, a copy of a file, like a .mp3 or .jpg, is the same as the original. But as NFTs are digitally unique and no two NFTs are the same, users can generate ownership for different files without the possibility of copying or plagiarism.
Another example is that today the ownership records of digital items are stored on servers controlled by institutions. But with the use of non-fungible tokens, every NFT must have an owner, and it is indeed a public record and very simple for anyone to verify.
Are NFTs Only on Ethereum?
The NFT market value tripled in 2020, reaching more than $250 million, and there has been increased interest in using NFTs In 2021. NFTs are now being used to commodify digital assets in art, sports, music, and other mass-market items.
Most NFTs are part of the Ethereum blockchain, but other blockchains can implement their versions of NFTs. Blockchains like Tezos and Flow have their standards when it comes to supporting NFTs. Each of these works to ensure that the digital item represented is authentically unique.
What Is a Digital Collectible?
NFT identifies a one-of-a-kind item that only exists in the digital world and a new form of digital collectible that is making the online world go wild. Recently digital artists, musicians, and even food franchises have sold NFTs for millions of dollars.
Unlike real-world originals, which need to be verified by an auction house or expert, ownership and authenticity of NFTs are public and provable thanks to the blockchain, the same technology that powers cryptocurrencies.
We need to keep in mind that NFTs can also lose their value. There are marketplaces If you want to check out some NFT's. OpenSea is one of the biggest online marketplaces for them.
NFTs and Their Value
The value of a particular NFT can be calculated differently depending on the asset that the NFT represents. Therefore, investors can use this framework to evaluate if an NFT is worth investing in, and developers can consider different ways to increase the value of NFTs to bring users and investors. The main point of all this is that NFTs create multiple new ways for values to be created for both developers and asset owners.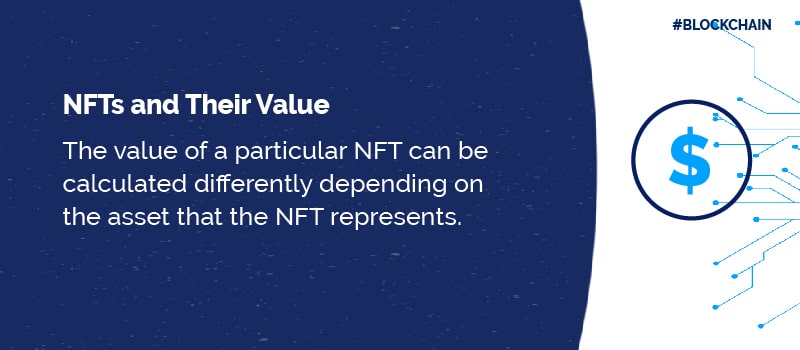 Another critical point of this new NFT Era is that any creator can tokenize its work to sell it as an NFT. But the recent extraordinary interest in NFTs has been fed by headlines of multi-million-dollar sales. For instance, an animated Nyan Cat GIF ─a 2011 meme of a flying pop-tart cat─ was sold at auction for $587,000 in cryptocurrency last 19 February.
Why Buy NFT?
Miami-based art collector Pablo Rodriguez-Fraile told Insider that "People have long used art to store value. Crypto extends easily into digital art. It is just a more modern approach to investing in art and using it like someone would use gold or bitcoin."
Fraile thinks about NFT as a product of the tech boom that was accelerated by the pandemic. Although, younger generations would have eventually pushed it anyway.
The recent NTFs multi-million dollar sales have captured the spotlight and produced a gold rush for many artists in the music industry. But from the buyer's point of view, they can be motivated to buy NFTs because it provides a different connection to the creator that hasn't existed till the moment with any other art form.
How to invest in NFTs?
Users can do whatever they want with NFTs, just like physical goods. But unlike material goods, NFTs have exciting new attributes such as uniqueness, scarceness, usability across multiple applications, and they can be managed with all the programmability of digital assets.
OpenSea, Mintable, and Raible are among the leading marketplace to buy, sell, and discover exclusive new digital assets. OpenSea is building an open digital economy for new digital goods such as Non-Fungible Tokens or NFTs.
Founded in 2017, OpenSea has 113K users, 477K collections, 15.3M NFTs, and over $354 million in trading volume. They are the first and largest marketplace for user-owned digital goods, including digital art, collectibles, gaming items, domain names, and other securely backed blockchain technology assets.
NFTs and Smart Contracts
Mark Cuban is an American successful entrepreneur and investor that has found many ways to invest in NFTs. He said he is excited about the Smart Contracts contained in NFTs. This means that a creator can get royalties when an NFT is resold, which Cuban describes as a "game-changer."
Since the launch of the Ethereum blockchain in 2015, the term "Smart Contract" has been applied explicitly toward the notion of operation that takes place on a blockchain. Smart Contracts are sometimes called self-executing contracts. They are programs that are stored on the Ethereum blockchain ledger, and that will execute the clauses automatically.
Cuban believes that the collectible NFTs we're witnessing now is only the beginning. There's plenty of business applications that have yet to unfold. NFTs could be an exciting way to collect when you're a collector. NFTs are improving all the time the way users buy, store, and display.
Which Is the Most Expensive NFT Ever Sold?
2021 will be remembered as the year in which NFT comes to public knowledge. This is because the crypto community has shown great excitement to invest in NFTs such as images, collectibles, songs, GIFs, and even Memes. We are witnessing the creation of a brand new form of digital assets industry in the last few months.
Michael Joseph Winkelmann, known as Beeple, is an American digital artist known for creating clever works with social and political commentary and using pop culture figures as references. Beeple was not that much popular until last year, but he had recently sold one of the most expensive NFT artwork on the market.
"Everydays: the First 5000 Days." is a massive compilation of the first 5000 digital arts by Beeple that had been sold by the astonishing sum of $69.3 million in an auction that took place at Christie's. Although the bidding started at $100, it is incredible that it soon raised and was sold at $69.3 million.
The Future of Art & Entertainment with NFT
The actual NFT ecosystem is vast, diverse, and is constantly growing. Christie's partnership with Beeple is one of many examples of a company branching out from traditional to more innovative markets as Non-Fungible Tokens are gradually going mainstream.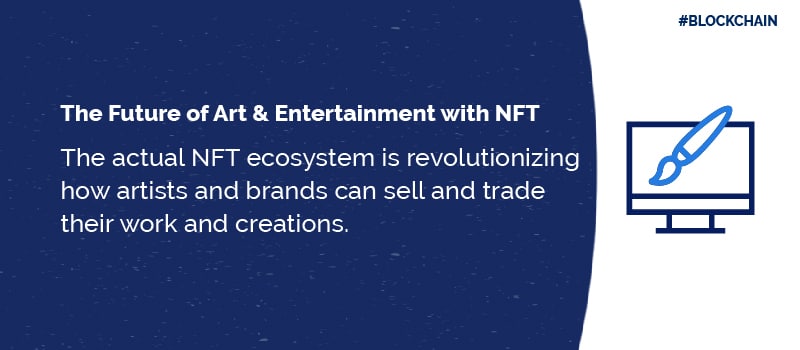 As NFTs are revolutionizing how artists sell and trade their work, these creators show how brands can enter the world of decentralization of NFTs. Right now, a significant number of new businesses are finding innovative uses for NFTs in many different areas such as art marketplaces, virtual worlds, decentralized finance, NFTs for physical collectibles, and many others.
What Brands Need To Know about NFT
According to Forbes, fashion and entertainment will be the Holy Grail on the blockchain. We can see how users are reselling or trading digital items right now. But maybe soon, we could be able to outfit our avatars and digital homes on the blockchain.
The Argentinian designer Andrés Reisinger recently sold ten pieces of virtual furniture on Nifty Gateway. These pieces can be placed in any open-world like Minecraft, Somnium Space, Decentraland, and others. The most expensive of these ten pieces of virtual furniture was sold for almost $70,000.
Karinna Nobbs, the co-founder of THE DEMATERIALISED, says that brands need to be conscious of several things when selling fashion via NFTs: "There is a first-mover advantage right now as there are so few fashion brand NFTs in the marketplace, so the first advice is to experiment, jump in early to this nascent market and it will get you higher media/social exposure and will bring you new audiences."
"Choose to release limited-edition iconic pieces with a design signature that a brand is known and recognized for to harness scarcity and drive demand, as well as partner with a marketplace and blockchain provider that has an easy-to-use UI and UX – especially if you are trying to convert the regular fashion consumer, as for many this would probably be their first fashion NFT journey," said Nobbs.
NFTs and Crypto-Art
Crypto-Art is not much different from any other type of digital art. But Crypto-Art is treated like physical art because it can hold verified ownership of the piece of art indeed.
Crypto-Art gives the creator and the buyer the capacity to verify an original painting using a Non-Fungible Token, just like physical art can be authenticated.
NFT technology uses a unique token that is a unique ID linked to a piece of Crypto-Art that is used to verify ownership of a piece and cannot be replicated. So the creator can use this ID to any kind of media file.
The specific token proves ownership of the 'original' file, and it is stored on a Blockchain that can be read but not modified. From then on, the blockchain is used to verify proof of ownership of a digital asset.
How Are NFTs Creating More Equity for Artists?
Some artists are beginning to experiment with Non-Fungible Tokens (NFTs), looking for ways to benefit them from financial and legal systems that habitually favor dealers and collectors.
Recently artists are starting to understand the benefits of Non-Fungible Tokens (NFTs) on their artwork and how financially viable NFTs can add value to an artists' work.
NFTs have tremendous potential, ensuring royalties for artists when a gallery resells an artwork. Artists can also use Smart Contracts to distribute percentages of sales between the different workers in the galleries.
NFTs can help artists using technology to circumvent the traditional art market altogether. Most of the recent sales of artworks with NFTs have been made on platforms such as Foundation by individual artists without gallery representation.
One of the main points of this technology for artists is its potential to make the back-end business of studio inventory and gallery sales contracts more transparent. Another innovative use of NFT can be to build micro-investment for creative projects that are difficult to fund with traditional methods.
The Future of NFTs
NFTs can create new business models that didn't exist in the past. For instance, artists can add stipulations to an NFT to ensure they get fair profits every time their artworks are resold. This way, artists can achieve something unthought till now, and they can benefit if their work increases in value.
Another example of this technology is that art platforms can demonstrate they own the digital works they claim to have. The NFT will always ensure that ownership is authentic when customers purchase art from the platform and guarantee no problems with copyright or originality.
When it comes to Sports Memorabilia, a significant part of these items are thought to be fake. NFTs can help overcome this copying problem by giving these items a clear transaction history back to their creator. In the music industry, NFTs can provide musicians the potential to produce enhanced media for their fans.
But the potential of Non-Fungible Tokens can go much further because they carry ownership rules to another level. Lawyers will not be necessary to establish trust in transactions anymore in the future, thanks to NFTs, because transactions recorded on blockchains cannot be changed.
Lawyers also can be replaced with Smart Contracts to automatically ensure that both parties honor their agreements when assets change hands. NFTs convert assets into tokens guaranteeing a fair and trustful system.
About ZirconTech: A trusted partner that helps organizations thrive in their digital transformations. Mobility, Internet of things, artificial intelligence, big data, cloud computing and blockchain technologies.